| | | | |
| --- | --- | --- | --- |
| | | Home Page | |
| | | | |
| --- | --- | --- | --- |
| | | Marine Diesel Engines | |
| | | | |
| --- | --- | --- | --- |
| | | Marine Transmissions | |
| | | | |
| --- | --- | --- | --- |
| | | Generators | |
| | | | |
| --- | --- | --- | --- |
| | | Used, New and Surplus | |
| | | | |
| --- | --- | --- | --- |
| | | Parts Center | |
| | | | |
| --- | --- | --- | --- |
| | | Used Parts Graveyard | |
The New Cummins 4B 3.3-M 65 HP @ 2600 RPM

---

CUMMINS MARINE POWER - 4B 3.3M

65 HP @ 2600 RPM
Trans Atlantic Diesels is proud to offer the "Newly Marinized Cummins 4B 3.3-M" Diesel Engine.

This rugged engine package is designed with the serious boater in mind. The max 65 hp is achieved at just 2600 RPM. At an amazingly low 1800 RPM this engine delivers almost 55 HP. Ideal for those long cruises.

The low engine speed contributes to the high torque and durability of the engine.

Lower engine speed also equals lower fuel consumption, lower noise level, lower operating cost and longer life!

In keeping this unit easy to maintain and operate some key features are:

1. Mani-Cooler: The engine utilizes the highly proven and efficient one-piece combination heat exchanger, water-cooled exhaust manifold and header tank assembly. This greatly reduces the amount of plumbing on the engine as well as reducing the potential for coolant leaks. Cleaning and disassembly of this unit requires no more than a screwdriver. Remove the non-corrosive neoprene end caps and simply pull out the tube bundle.

2. Jabsco Raw Water Pump: Gear driven and flanged-mounted off the front timing cover, creating reliability and ease of accessibility for servicing. With durability in mind this pump utilizes not one but 2 sealed bearings.
3. Electric Fuel Pump: The injector pump has a built-in transfer pump. For added reliability a back-up electric fuel transfer pump is fitted.


| | |
| --- | --- |
| | 4. Deluxe Instrument Panel: Oil pressure Gauge, Water Temp Gauge, Voltmeter, Tachometer incorporating LED Hour meter, Key Switch and spare momentary switch for accessory use. Alarm System Indicating High Water Temperature and Low Oil Pressure warning. Engine Shut Down via key switch to avoid the installation of manual pull cable. 10, 15 and 20 foot extension harnesses available. |


5. Transmission Selection: A rugged engine deserves a rugged transmission! For this we strongly recommend the PRM 260. This top of the line, hydraulically operated gear, will run continuously in either direction (your propeller rotation preference). A lock-up "get you home" feature is standard. Other features include external oil pump and control valve, and a split casing with cast iron construction. It is available with a 3.50 inch Offset drop or parallel output. Other popular transmission options include the Hurth HBW 250 and the Borg Warner Velvet Drive 71 or 72 series. A standard SAE #4 bell housing is used for simplifying the attachment of any commonly used marine gear. We would be happy to discuss fitting your existing transmission if desired.

6. Oil and Filter Changes: Easy, a hand oil change pump is fitted as standard. Fuel and oil filters are both spin-on type. Change intervals are recommended at 500 hrs. fuel and 250 hrs. oil.

7. Double Crankshaft Pulley: For driving other accessories such as a refrigeration compressor, a double groove crankshaft pulley is an available option.

8. Alternator/Belt system: Standard alternator is 60 amp. 12volt. The standard "V" belt is a Heavy Duty 11/16" wide belt. If you require more 12v DC power, an option, either when ordering a new engine or as an accessory, is a Serpentine 8 groove Micro belt system combined with one of the Balmar High Output Alternator kits detailed below.


Serpentine Pulley Kit & Balmar Alternator - AT 200 Series

Need More Juice? We can offer the complete package:
Upgrade your Cummins 4B3.3M charging system with the latest Balmar AT200 (200 amp) alternator with MC 614 smart regulator and the new serpentine 8 groove belt pulley kit now exclusively available for the Cummins 4B3.3M.

The serpentine belt kit along with the Balmar AT200 is designed deliver approx. 200 amps of 12v DC power at amazingly low engine RPM.

Shown At Right: Balmar AT200 as fitted to Cummins 4B3.3M with TAD Serpentine Pulley Kit.

The kit can be ordered as an installed option with a new engine or as a bolt on accessory for current owners.

The power curve below shows the remarkable performance at just above idle and upwards. Enjoy more amps, less fuel, less wear & tear, and less engine noise at anchor.


Engine RPM shown above are for the Cummins 4B3.3M
Graph calculated for guidance; may not be exact.
Kit As Shown Below - Ref. #AT200SPKALT Kit
Kit available in: 200 amp. What you get if you order the upgrade 200amp charging package. Ref. # AT200SPKALT Kit:

Smart regulator, harness and alarm sensors.
Serpentine Pulley Kit includes 8 groove micro pulleys & belt
Alternator mounting bracket kit HOBK-AT200 Kit
All necessary mounting hardware to complete the job and installation instructions.

Don't need 200 amps? We also offer the more economical Balmar 621 Series in 70, 100, 120, & 150 amp output along with our serpentine pulley kit. See below for more information.

Note: When ordering the Serpentine Pulley Kit with 8 Groove Micro Belt system for the Cummins 4B3.3M, to replace the standard 60 amp alternator with a Balmar 621 or AT Series, you will need to fit the High Output Alternator Bracket Kit. Please specify which alternator you intend to fit to ensure the correct mounting kit and hardware is supplied. The kit includes a heavy duty alternator bracket, adjusting arm and the necessary hardware and spacers to accommodate the larger alternator.


Serpentine Pulley Kit & Balmar Alternator - 621 Series

70 Amp, 100 Amp, 120 Amp, and 150 Amp

Need more Juice? We can offer the complete package:

Upgrade your Cummins 4B3.3M charging system with the high output Balmar 621 series (70 amp 100 amp 120 amp and 150 amp) alternator with MC 614 smart regulator and the new serpentine 8 groove belt pulley kit now exclusively available for the Cummins 4B3.3M.

Shown at right: Balmar 621 Series 150 amp as fitted to Cummins 4B3.3M with TAD Serpentine Pulley Kit

The kit can be ordered as an installed option with a new engine or as a bolt on accessory for current owners.

The serpentine belt kit along with the Balmar 621 is designed deliver close to 150 amps of 12v DC power at amazingly low engine RPM.

The power curve below shows the remarkable performance at speeds just above idle and upwards. Enjoy more amps, less fuel, less wear & tear, and less engine noise at anchor.

Engine RPM shown above are for the Cummins 4B3.3M
Graph calculated for guidance; may not be exact.
Kit As Shown Below - Ref. #621SPKALT150 Kit
Kit: Available in: 150amp 120amp 100amp & 70amp What you get when ordering the upgraded 621 series charging package as above 621SPKALT150 Kit includes:

Smart regulator, harness and alarm sensors.
Serpentine pulley Kit includes 8 groove micro pulleys & belt
Alternator mounting bracket kit HOBK-621 Kit
All necessary mounting hardware to complete the job and installation instructions.

Need more than 150 amps? We also offer the Balmar AT200 Series in 200 amp output along with our serpentine pulley kit. Shown above.

Note: When ordering the Serpentine Pulley Kit with 8 Groove Micro Belt system for the Cummins 4B3.3M, to replace the standard 60 amp alternator with a Balmar 621 or AT Series, you will need to fit the High Output Alternator Bracket Kit. Please specify which alternator you intend to fit to ensure the correct mounting kit and hardware is supplied. The kit includes a heavy duty alternator bracket, adjusting arm and the necessary hardware and spacers to accommodate the larger alternator.

---

---

NEW FOR THE CUMMINS 4B3.3M

NEW FLYER CONTAINING SPECIAL ACCESSORIES & OPTIONS INCLUDING:

SERPENTINE PULLEY KIT

MOUNTING BRACKET KITS

EXPANDED ON BOARD CRUISE KIT

HOT WATER CONNECTION KIT

STAINLESS STEEL EXHAUST MIXING ELBOW

Click here to view the new flyer

---

Installation Dimensions - Cummins 4B 3.3-M
---
CUMMINS 4B 3.3-M ~ SPECIFICATIONS
GENERAL ENGINE DATA
| | |
| --- | --- |
| Engine Model: 4B3.3-M | Rating Type: Intermittent |
| Rated Engine Power: 65 bhp (48.5kw) | Rated Engine Speed: 2600 RPM |
| High Idle Speed Range (No Load): 2850 RPM | Idle Speed: 800 RPM |
| Engine Torque: 131.3 ft.lb (179 Nm) | Brake Mean Effective Pressure: 99.5 psi (687 kPa) |
| Piston Speed: 1963 ft/min (9.9 m/sec) | Average Noise Level: 94 dBA @ 1M |
| Firing Order: 1 - 3 - 4 - 2 | Number of Cylinders: Four |
| Configuration: In-Line | Aspiration: Natural |
| Bore: 3.74 in. (95 mm) | Stroke: 4.53 in. (115 mm) |
| Displacement: 3.3 L (199 in.³ ) | Cycle: 4 Stroke |
| Compression Ratio: 18.8:1 | Direction of Rotation Viewed at Flywheel End: CCW |
| Total Weight - Dry - Less Gear: 554 lbs. | Total Weight - Dry - Including PRM Gear: 660 lbs. |
| Total Weight Dry Including Hurth HBW 250 Gear: 594 lbs. | Total Weight - Wet - Including PRM Gear: 700 lbs. |
4B 3.3-M ~ FUEL SYSTEM
Fuel Pump Type: Zexel VE
Injectors: Zexel
Max Fuel Consumption @ Rated RPM: 3.43 GPH (12.99 L/hr)
Approx. Fuel Flow to Pump @ Max RPM: 6.7 GPH (25.4 L/hr)
Lift Pump Type (USCG Approved): Electric
Lift Pump - Lift Capacity: 6 Ft. (2.1 M)
Lift Pump Flow Rate:26 GPH (98.4 LPH) @ 3.5 psi* (24.1 kPa)
Fuel Supply Line Restriction (Max): 3.0 in Hg. (76.2 mm Hg.)
Fuel Return Line Restriction (Max): 15 in. Hg. (381 mm Hg.)
Fuel Supply Line Size (Min): 1/4 in. (6.4 mm) ID
Fuel Rerurn Line Size (Min): 1/4 in. (6.4 mm) ID
Fuel Filter Change Interval: 500 Hours
Heat Rejection to Fuel: 28 BTU/Min. (0.5 kW)
Governor Droop: 9%

* Normal operating pressure 3.5 psi, minimum 2.5, maximum shutoff 4 psi
4B 3.3-M ~ EXHAUST SYSTEM
Maximum Exhaust Back Pressure: 3.0 in. Hg. (75 mm Hg.)
Exhaust Gas Flow: 324 CFM (153 L/sec)
Maximum Allowable Static Bending Moment @ Exhaust MFD Flange : 14.8 lb.ft. (20 N-m)
Exhaust Gas Temperature: 1117° F (603° C)
Minimum Rise Sea Water Line to Exhaust Outlet: 12 in. (304.8 mm)
Recommended Minimum Exhaust Pipe Size: Outlet 2.5 in. (63.5 mm) OD
4B 3.3-M ~ INTAKE AIR SYSTEM
Intake Air Flow: 119 CFM (56 L/sec)
Intake Manifold Pressure: -0.3 in. Hg. (-8 mm Hg)
Maximum Engine Compartment Air Temperature: 140° F (60° C)
Maximum Air Temperature at Engine Inlet: 122° F (52° C)
Minimum Cross Section of Air Duct / Engine: 37 sq. in. (233 sq. mm)
Heat Rejection to Ambient: 950 BTU / min (16.7 kW)
4B 3.3-M ~ LUBRICATION SYSTEM
Recommended Lube Oil: SAE 15W40, API CH4
Oil Pressure at Idle Speed - Minimum: 31.2 psi (215 kPa)
Oil Pressure at Normal Operating Range: 68 psi (469 kPa)
Maximum Allowable Oil Temperature: 248° F (120° C)
Oil Pan Capacity: 1.9 Gal US (7.0 L)
Total System Capacity: 1.914 Gal US (7.5 L)
Maximum Operation Angularity of Oil Pan: Front Up- 35° Front Down- 35° Side to Side- 35°
Low Oil Pressure Switch Setting: 15 psi (103 kPa)
Lube Oil Filter Change Interval: 250 Hours
4B 3.3-M ~ COOLING SYSTEM
Coolant Capacity - Engine Only: 1.2 Gal US (4.5L)
Coolant Capacity - Engine & Heat Exchanger: 2.9 Gal US (11L)
Maximum External Pressure Loss in Cooling System: 5.0 psi (35 kPa)
Standard Thermostat (modulating) Range: 180 - 203° F (82 - 95° C)
Maximum Coolant Temperature: 212° F (100° C)
Pressure Cap Setting at Sea Level: 7 psi (48 kPa)
Fresh Water Flow: 34.9 GPH (132.3 LPH)
Minimum Coolant Makeup Capacity: 2.4 Qts. US (2.2 Litre)
Minimum Raw Water Pump Inlet Plumbing Diameter: 1.25" (32 mm)
Minimum Raw Water Pump Inlet Restriction: 5 in. Hg. (127 mm Hg.)
Maximum Raw Water Pump Initial Suction Lift: 6 ft. (2.1 M)
Maximum Raw Water Pump Flow: 36.2 GPM (137 LPM)* * With 1.25" Inlet on Pump
Heat Rejection to Coolant: 1610 BTU / min. (28.3 kW)
High Water Temperature Switch Setting (VDO): 205° F (96° C)
4B 3.3-M ~ ELECTRICAL SYSTEM
Minimum Recommended Battery Capacity - Cold Soak @ 0° F (-18° C): 550 CCA
Reserve Capacity Minutes: 135
Maximum Allowable Resistance of Starting Circuit: 0012 Ohms
Starter Motor: Nippondenso 12V
Alternator: Nippondenso 12V, 60 Amp
Fuel Solenoid Type: Energize to Run
Fuel Solenoid Current: 1.7 Amps
---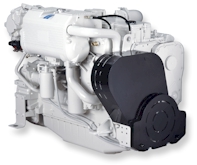 ---
BEFORE CONTACTING US ABOUT ALL OTHER CUMMINS MARINE ENGINES PLEASE READ THE FOLLOWING:
WE CAN NOT SUPPLY/SHIP OUTSIDE THE STATE OF VIRGINIA

This restriction ONLY applies to New & Factory ReCon Cummins Marine Engine Packages.
This restriction does NOT apply to Cummins 4.B3.3M 65HP shown above.

Due to Cummins Engine Company's policy, we are restricted to selling the following products to within a designated territory. Trans Atlantic Diesels territory includes the state of Virginia. For us to remain within these regulations, you and your vessel should reside in Virginia. If this is not the case, we suggest you contact your local distributor or dealer by going to www.cmdmarine.com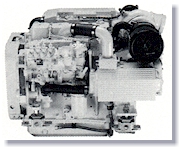 To preserve warranty coverage, It should be noted that each engine following installation should undergo a factory authorized installation review. Unless special arrangements are made, this is normally carried out by the selling dealer or their local distributor, within the selling dealer's or distributor's territory.

If you are outside of our Virginia territory: As a courtesy to our fellow dealers/suppliers, please do not contact us for pricing, availability or engine information.
There are no restrictions on Cummins parts and any other items listed on our web site.
We are also happy to offer a full range of marine transmissions for your replacement Cummins engine.
---
New Cummins Electronic
Marine Diesel Engines
Q Series

---

QSB5.9 - Commercial
QSC8.3 - Commercial
QSB5.9 - Recreational
QSC8.3 - Recreational
.
.

---

Cummins Factory ReCon
Marine Diesel Engine
Packages

---

4BT 3.9 - 155 HP
6BT 5.9 - 220 HP
6BTA 5.9 - 330 HP
6BTA 5.9 - 370 HP
6CTA 8.3 - 450 HP
QSM11 - 660 HP

---
---