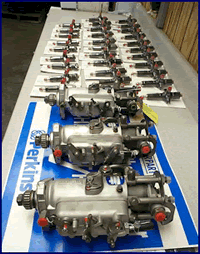 Trans Atlantic Diesels carries a full line of fast moving injector pumps on the shelf ready to ship. If we don't happen to have your pump in stock, a fast turnaround can be arranged.

Remember when ordering, we need:
Engine Model & Serial #
Numbers from the pump that commence with DPA…………………………
If you have a pump not manufactured by CAV or Delphi, such as Diesel Kiki/Bosch, Stanadyne or Simms Minemec, please provide all numbers from the pump ID tag.
Pumps & Injectors are supplied on a rebuilt exchange basis. You have the choice of sending your pump/injectors in for rebuild or having off the shelf rebuilt pump/injectors shipped to you. There will be a core charge which is refundable on receipt of your like for like rebuildable cores. Core policy available on request.
Contact us for pricing.
CAVEAT FOR FUEL INJECTOR PUMP PRICING:
Fuel Injection Pump Rebuild pricing, when supplied on an exchange basis, can exceed the quoted standard pricing by up to $400. This applies when the Main Head & Rotor require replacement with a new assembly.
If this is required, verification of this action can be verified by the 3rd party fuel injection shop performing the service. It can take up to 4 weeks to evaluate a core pump and initiate an appropriate core refund. The refund is normally applied to the credit card used for the purchase unless otherwise requested.
INJECTORS: We carry a healthy stock of rebuilt exchange injectors. They can also be supplied new outright.
FITTING: We recommend you have a qualified mechanic fit fuel injection parts. These items are quite complex and extremely sensitive to any contamination. Cleanliness of all fuel injection items is of the utmost importance, the minutest particles can cause pump damage and or block injector nozzles neither of which are covered under warranty.
Throttle and stop control levers must be left in position on the pump being returned, and the replacement pump being supplied.

DO NOT disturb the securing nuts on the throttle and stop control levers, this will affect pump performance and could void pump warranty.

Shipping: We recommend you adequately insure, and thoroughly drain the pump of fuel before shipping; failing to do so may cause the pump to be detained as hazardous.