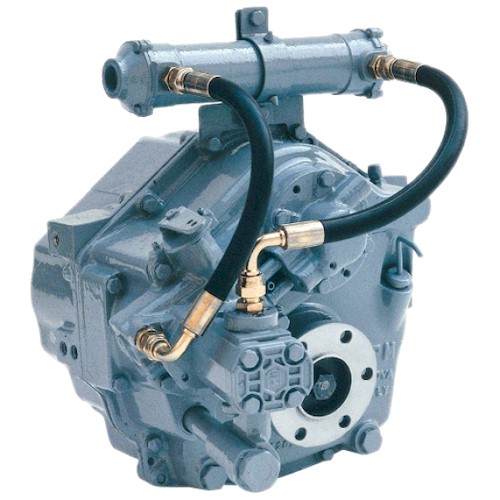 Maximum Input **
DUTY
KW
HP
RPM
Pleasure
419
562
4500
Light
394
528
4500
Medium
335
449
4500
Continuous
192
258
3200
** Must Not Be Exceeded
Reverse reduction marine transmission with mechanically actuated multi-disc clutches.
Suitable for high performance applications in luxury sailboats, motoryachts, fishing boats, etc.
Robust design also withstands continuous duty in workboat applications.
Fully works tested, reliable and simple to install.
Design, manufacture and quality control standards comply with ISO 9001.
Compatible with all types of engines and propulsion systems, including water jets and surface piercing propellers, as applicable.
Lightweight and robust aluminum alloy casing (sea water resistant).
Case hardened and precisely ground gear teeth for long life and smooth running.
Output shaft thrust bearing designed to take maximum propeller thrust astern and ahead.
Compact, space saving design; 10° down-angle and "Lambda" beveloid gear principle.
Suitable for twin engine installations (same ratio and torque capacity in ahead or astern mode).
Engine-matched dual stage coupling.
SAE 2, SAE 3 and B.W. adapters.
Oil cooler complete with fittings and flexible oil hoses.
Mounting brackets.
Propeller shaft flange and coupling bolt sets.
Trolling valve for slow-speed drive.
Classification by all major Classification Societies on request.
Prices are made available by email or phone.
or call us at 1-804-642-9296 for more information.
If you need assistance please call us at 804-642-9296