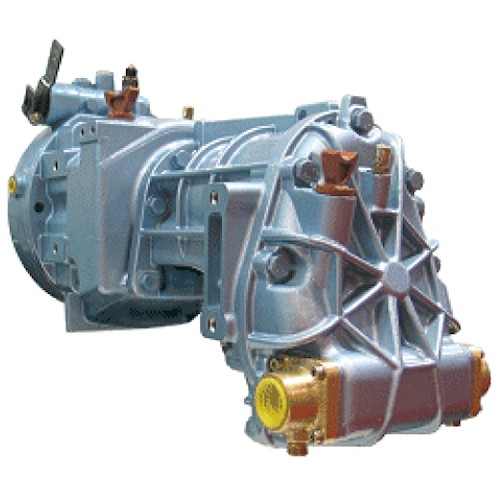 Maximum Input **
DUTY
KW
HP
RPM
Pleasure
355
476
5500
Light
265
355
5500
** Must Not Be Exceeded
Reverse reduction marine transmission with hydraulically actuated multi-disc clutches.
Vee-Drive unit suitable for ski-boat application.
Suitable for high performance applications skiboats and waterjets.
Fully works tested, reliable and simple to install.
Design, manufacture and quality control standards comply with ISO 9001.
Compatible with all types of engines and propulsion systems, including water jets and surface piercing propellers, as applicable.
Max input torque and power can not be transmitted when shifting lever is in position «B». «B» position in used only forreverse operation during docking and low speed maneuvering.
Only for single-engine application.
Lightweight and robust aluminum alloy casing (sea water resistant).
Case hardened and precisely ground gear teeth for long life and smooth running.
Output shaft thrust bearing designed to take maximum propeller thrust astern and ahead.
B/W connection integrated with casing.
Smooth and reliable hydraulic shifting with control lever for attachment of push-pull cable.
The reversible oil pump makes the gearbox suitable for use with right hand or left hand rotation engine.
Replaceable oil filter.
ZF 45-1 IV is created by the summary of ZF 63C (FORE) with a Vee-drive unit (AFT). The FORE part needs an optionaloil cooler, meanwhile the AFT part has an Integrated Oil Cooler.
Total oil content is 3 liters: TWO (2) liters in the FORE part, and only ONE (1) in the AFT part (Vee-drive unit)
Prices are made available by email or phone.
or call us at 1-804-642-9296 for more information.
If you need assistance please call us at 804-642-9296