CR2 Marine Transmissions
The Velvet Drive CR2 was designed specifically for twin screw applications. Its counter rotating feature eliminates the need for opposite rotating engines and the resulting need for costly inventory of two types of engines or engine parts.
In addition, the CR2's "drop-center" design permits a very easy interchange of units for re-powering applications - single or twin screw.
TAD offers Rebuilt exchange Velvet Drive 71 & 72 Series Transmissions. We can rebuild yours or offer one of our rebuilds on an exchange basis (subject to availability). When enquiring, you will need to furnish information from the original data plate. Model, Reduction, Size of output coupling which comes in 4" & 5". There is a penalty for core transmissions that are returned in a non-rebuildable condition i.e. bad casings, gear damage, excessive input shaft wear or require more than service items to rebuild them.
Service Items include but not limited to:
Bearings
Bushings
Clutches
Springs
Oil Pump
Gaskets
"O" Rings
Seals
Fasteners
You can ship your core in ahead of time, we will inspect it and determine if it is an acceptable core. Our testing process carried out on completion, checks for Oil Pressures, Oil Flow and Temperatures in Forward and Reverse. Transient boaters can expect priority service. Call us for pricing and availability.
Velvet Drive CR2 Features
Dimensions For 71 & 72 Series CR2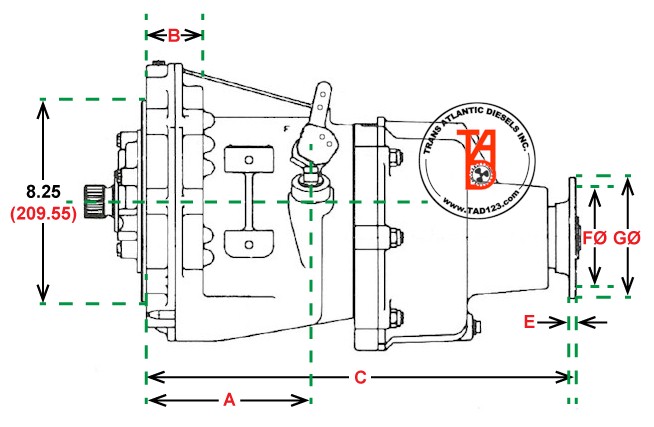 inches

(millimeters)

Model
A
B
C
E
F Ø
G Ø
Reduction
71 Series (10-13)
6.82


(173.23)

2.39


(60.71)

18.42


(467.87)

.31


(7.87)

4.25


(107.95)

5.00


(127.00)

1.58 - 2.03
2.47 - 2.93
72 Series (10-14)
7.76


(197.10)

2.64


(67.06)

19.36


(491.74)

.31


(7.87)

4.25


(107.95)

5.00


(127.00)

1.58 - 2.03
2.47 - 2.93
General Information
Model CR2 Model 71C (10-13)
Available Ratios:
1.58 - 2.03 - 2.47 - 2.93:1.00
Shaft Rotation:
Please specify output shaft rotation to be same as or opposite to engine rotation when ordering.
Approximate Dry Weight (direct drive):
162 lb.

(73.5 kg.)

Model CR2 Model 72C (10-14)
Available Ratios:
1.58 - 2.03 - 2.47 - 2.93:1.00
Shaft Rotation:
Output same as engine.
Approximate Dry Weight (direct drive):
175 lb.

(79.4 kg.)
Note: Velvet Drive CR2 Transmissions are not currently produced and have not been for some time. We can evaluate your old unit to determine if it is rebuildable. If it has suffered a failure beyond wear and tear, some of the internal parts are no longer available. Any rebuilt exchange units are subject to availability. When enquiring, please state the exact model and reduction. This information should be on the data tag.
Note: If your installation will allow you to lower your engine approx. 2" or less (depending on your model) you might consider discussing with us an in line version of this transmission without the drop. It is the drop in the output coupling that makes it exclusive.
TAD Tech-Assist
Don't forget to inspect the Damper Drive Plate Coupling while the transmission is removed. This is a wear item and is normally replaced while the transmission is removed. TAD carries a good stock of these plates.
---