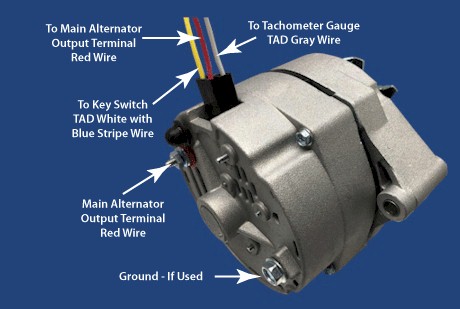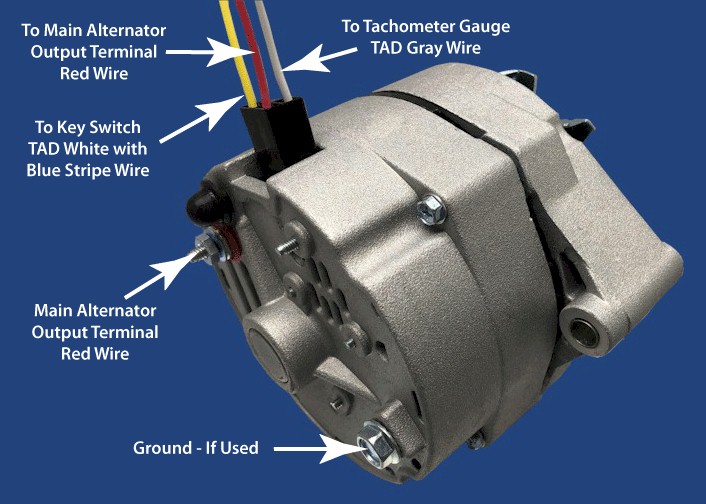 When ordering, please state which engine you will be fitting it on to ensure correct pulley size and terminal orientation.
Delco 65 Amp Alternator: $164.85
3 Pin Plug Lead: $27.95
or call us at 1-804-642-9296 for more information.
---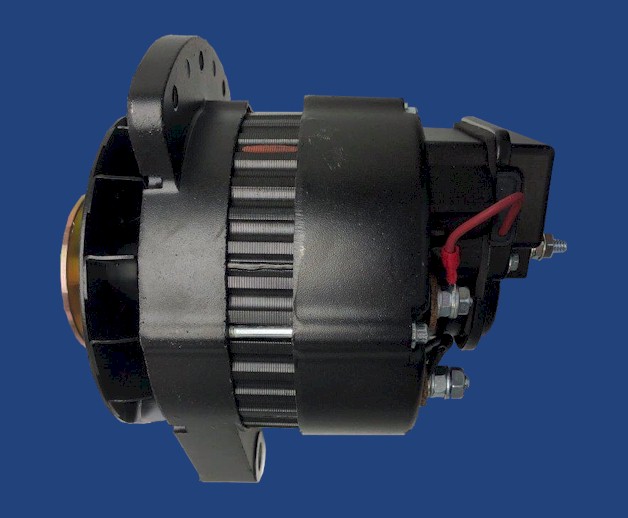 When ordering, please state which engine you will be fitting it on so we can ensure correct pulley size.
Prestolite 65 Amp Standard Alternator: $267.00
or call us at 1-804-642-9296 for more information.
---
Serpentine Belt Systems
It is important that your engine's belt system has the capacity to handle the increased load of a High output alternator. TAD offers several Serpentine Belt Kits designed for use with High Output alternators, click here to view kits. Contact TAD to discuss pricing, belt sizing and capacity.
What Makes Balmar Alternators & Regulators So Special?
In order to really understand the difference between Balmar charging equipment and the average alternator and regulator, it's important to understand our goal in designing and building a Balmar alternator. In an automotive application, the alternator's function is to keep a starting battery happy while supplying power to electrical/electronic operations needed to operate the vehicle (i.e., headlights, cassette deck, vanity mirror lights, etc.). In this environment, a simple, internally-regulated alternator is usually more than sufficient to get the job done.
In the marine environment, the alternator and regulator must support a much greater battery capacity to fulfill engine and house battery loads. The alternator and regulator must also be able to charge effectively at lower rpms and live in an inhospitable environment. In addition, the alternator and regulator may sit for long periods between uses (surprisingly, one of the toughest aspects of alternator life). At the same time, this system must meet the expectations of boaters that want to have their batteries charged within the least amount of engine run time. To meet those challenging conditions, a high-output marine alternator begins with high amperage diodes, larger, higher-quality bearings, and a durable frame, that's protected against potential corrosion damage. Balmar applies a durable powder coat finish to protect the alternator from rust and corrosion.
Another thing that sets a Balmar alternator apart from the rest is the technology we use to create our rotors and stator windings. The rotor/stator combination is the primary factor in controlling the amount of top-end output, low-end output and cut-in level (how slowly the alternator can turn and still make useable amperage). The rotor and stator combinations in Balmar alternators are custom wound and calibrated to maximize output, not just at top end, but also at the low end of engine rpm. But, that's just half the story ... Balmar has been one of the industry leaders in creating intelligent voltage regulation that enables us to meet the needs of newer battery types, and the added load that modern electronics and inverter technology demand. Intelligent regulation, like that provided by our Max Charge and ARS-4 regulators, matches the output of the alternator to the specific needs of your batteries (AGM, gel, Optima, deep-cycle flooded, etc.) so batteries charge faster based on the needs of their unique constructions, and we can most effectively utilize the added capabilities that our alternators provide. And we've done it in a way that doesn't require the end user to be an engineer to get the most out of their charging systems.
In addition, many of our voltage regulators are equipped with the ability to monitor both battery and alternator temperature, and respond by increasing or decreasing voltage levels to maximize both safety and performance. In the event of a condition that poses danger to the system or the vessel, the regulator has the ability to discontinue charging completely.
Do I really need a high output marine alternator on my boat?
If your vessel's DC system is limited to a standard flooded starting battery that supplies minimal house loads, your engine's standard alternator will probably be sufficient. On the other hand, if your vessel features multiple battery banks, substantial house loads and/or inverter loads, or battery technologies like AGM, gel or deep cycle flooded batteries, you will see a radical improvement in your vessel's charging performance with the introduction of smart regulation and a high-output alternator.
In addition, high quality marine alternators also benefit your vessel in the fact that they are built to handle the environmental conditions specific to marine applications. Larger bearings, custom wound stators with larger gauge wire, higher amperage diodes, as well as a powder coat protected case all work together to ensure longer alternator life.
---